CBRE published a fascinating report earlier this year examining the housing markets in 35 cities. Below I've summarized some of the key findings of the report and show how property values and rents in Toronto compare to other major global cities.
---
The first chart shows Average Property Prices (as of 2018, in USD $) for the 35 cities –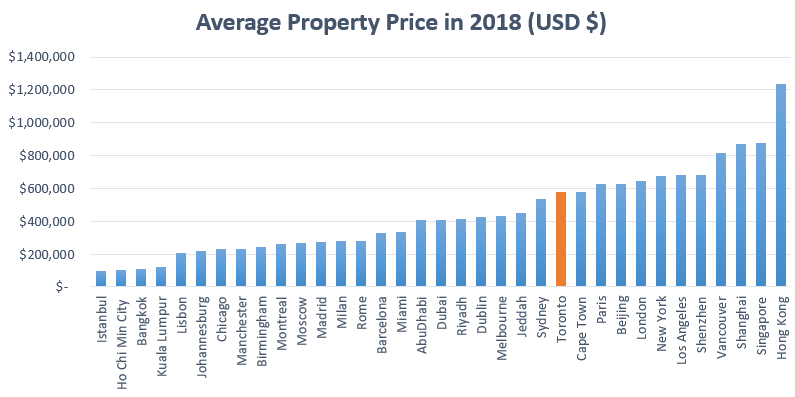 The highest property prices, by some margin, are in Hong Kong, followed by Singapore, Shanghai and Vancouver. Hong Kong also leads the global residential property market on a $ per sq ft basis, while other cities in the top 10 include cities such as Paris, London and New York. On the other side of the chart are cities like Istanbul, Ho Chi Min City, Bangkok, Kuala Lumpur and Lisbon. Istanbul is understandable given the economic malaise Turkey has been facing for about a decade (despite Istanbul being a growing and very dynamic city). Lisbon however I did not expect to be valued so low, given the investment taking place in the city and the burgeoning tech scene. But that investment could be attracted to the city due to its low property prices. 
The next chart shows change in property values for the 35 cities between 2017 and 2018 –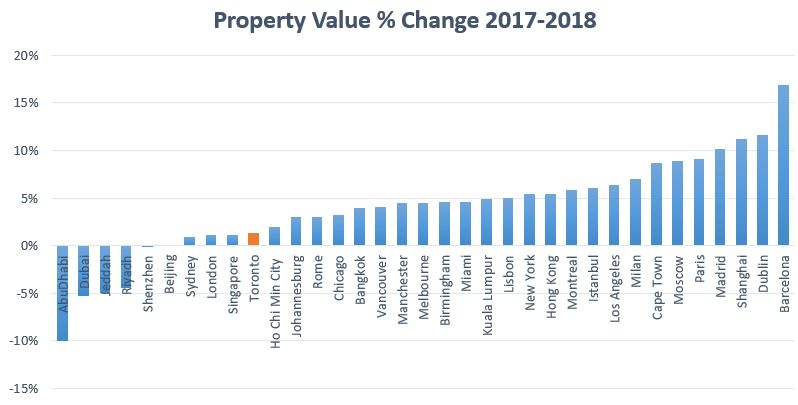 House prices continued to grow in all but 5 of the 35 cities analysed; while four cities (i.e., Barcelona, Dublin, Shanghai and Madrid) saw double digit growth. Of the 5 cities that faced a decline in property values, 4 are interestingly enough in the Middle East (i.e., Abu Dhabi, Dubai, Jeddah and Riyadh). As well, 7 of the top 10 high growth cities are in Europe (including Moscow and Istanbul). 
The following chart shows the average monthly rent as of 2018 in USD $ –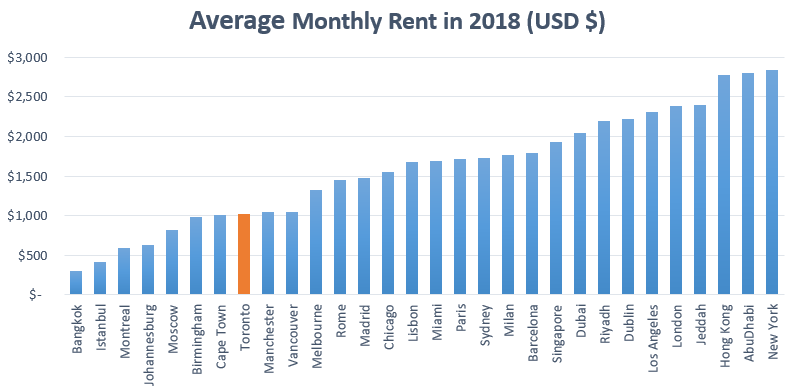 The most expensive city in which to rent a property today is New York, with Abu Dhabi, Hong Kong, Jeddah and London not far behind. Toronto and Vancouver are closer to the lower end of the chart, with low rents relative to other major global cities. Keep in mind that the figures shown in these charts are in USD.
The chart below shows % Change in Monthly Rent between 2017 and 2018.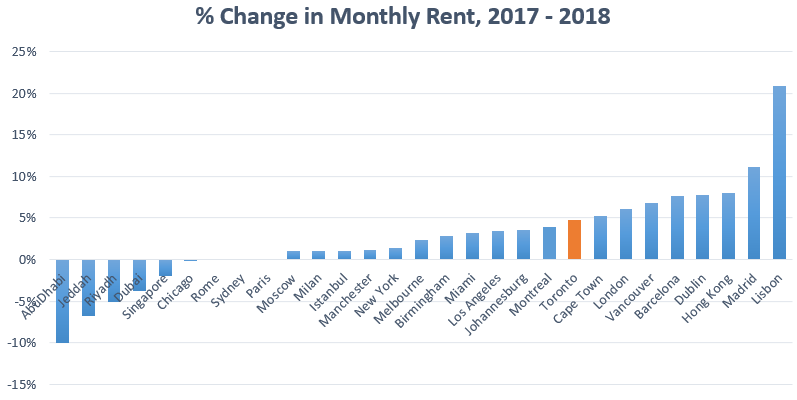 Demand for flexible rental properties keeps rising across the world, which impacts rental costs. Five European cities feature in the top 10 annual rental growth chart, including Lisbon, Madrid, Dublin, Barcelona and London, with the other five from Asia (Hong Kong), North America (Vancouver, Toronto and Montreal), and South Africa (Cape Town).
Finally I wanted to show a chart that exhibits the ratio between property values and monthly rents to gauge generally in which cities yield might be highest if you were investing in rental residential properties. Keep in mind this is a very crude and rudimentary analysis, and does not take into account other critical factors associated with investment properties.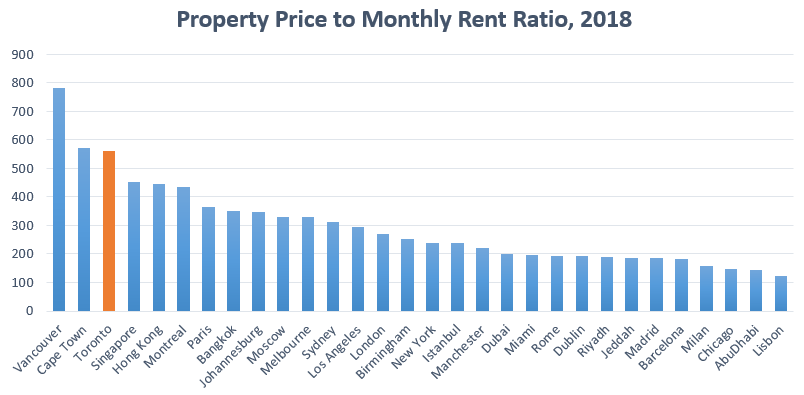 Southern European cities predominate the low end of the chart with low property values and high rents. On the other side of the chart are Vancouver, Cape Town and Toronto. Despite growing interest in renting in Canadian cities, rental rates are too low in some cases relative to property values for an investor to meaningfully make a profit – but they are growing (as seen in the previous chart). My previous article on which investment instrument would yield a better return (i.e., S&P 500 or Toronto real estate?) touches upon the topic of rent coverage costs. 
---
Overall the CBRE report presents some fascinating information and insight into the housing markets of 35 global cities. I feel however that the analysis would have provided a more complete picture of the relative situation in the global housing market with the addition of other major global cities across the world. For instance, no cities from South America, Japan, South Korea, Germany, the Netherlands and the Scandinavian countries are featured in the analysis – and many cities across these countries are recognizable and prominent on a global stage. As well, San Francisco would have been another interesting addition.